Download free full-size plan for the Megow Primary Glider HERE!

Click to Enlarge Images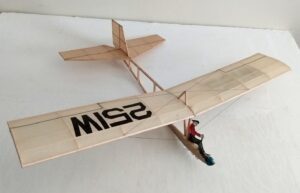 Towline gliders are Fun!
---
The gang had a blast flying FAC Scale Gliders at the recent FAC Non-Nats in Geneseo NY. So much so that our local flyers convinced skyboss Angus to add the event to the August 26 and September 9 meets at Woodsom Farm in Amesbury.
What, you don't have a Scale Glider? No problem. The simple, quick to build and great flying Megow Primary Glider plan is available for download free below. The file prints on an 11×17 sheet of paper. Think of this as a super simple dime scale model. It doesn't have a propeller or noseblock and the fuselage is a simple flat frame. Sure, you can easily make one in time for the late August Woodsom Farm meet!
Building Tips
We're including several pics of clubster Pete K's Megow Primary model to help get the juices flowing. Look closely and you'll see a few simple mods Peter made to his Primary.
Build the model directly off the plan. Use stiff 1/8 square balsa for the upper longeron that the wing sits on. This can be a weak point. Peter added thin card stock gussets at the fuselage upright joints to make it even more robust. Don't forget to add the thread flying & landing wires per the plan after the model is covered and assembled. This rigging is functional and keeps the model from twisting while going up on the towline. Consider reinforcing the rigging points on the wing with tissue discs.
Towline & Tow Hooks
The towline is lightweight braided fishing line attached to a simple hand winch. The club will provide winches for flyers to use at the August and September meets along with some easy training on how to tow your model to altitude. It's fun!
The towline has a ring on the end that slips onto the wire tow hook on your glider. Pete mounted three tow hooks on his Primary to make it easier to tow the model in different wind conditions.
That's it skyster! Download the plan now (below) and get to the building board so you can join in the fun at the upcoming meets. Join the club Zoom meetings, or use the Contact Us form if you have any questions with the build.
Download Megow Primary Glider full size construction plan