One Design Contest for 2023-24 Indoor Season!
Well, finally! We've gotten around to updating our One Design page for the upcoming indoor season. The Phantom Flash II "Chameleon" will be flown by the Stealth Squadroneers in the Penn Brook Middle School gym and the Glastonbury Modelers in the Glastonbury High School gym. Check out the Calendar page to get the flying dates and stay tuned to Coming Events on the homepage . Get the Chameleon full size plan below (free download) and check out the Rules before you head to the building board (click to enlarge image below)!
Dennis Norman Phantom Flash II "Chameleon" One Design
Download the free full-size construction plan from the AMA website HERE
Or download the free plan below if you prefer. The plan file prints on an 11×17 sheet and the Parts page prints on standard 8 1/2 x 11in "letter" sheet.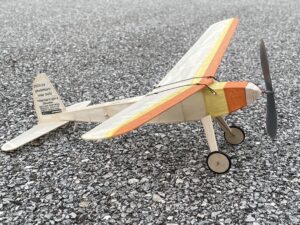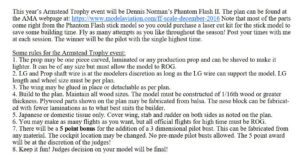 (click images to view larger)
Some comments on the Chameleon One Design from John K. of the Glastonbury Modelers.
" Note that most of the parts come right from the Phantom Flash stick model so you could purchase a laser cut kit for the stick model to save some building time. Fly as many attempts as you like throughout the season! Post your times with me at each flying session (Glastonbury HS)."
As is their usual practice, the Stealth Squadroneers will be flying their Chameleon one design models in a series of fun events in the Penn Brook Middle School gym in 2024. Check out the Calendar for the Penn Brook dates – and don't miss the Pylon Racing event – it's a real crowd-pleaser!
Download 2023-24 Phantom Flash Chameleon Plan, Parts Page, Rules
One-Design Event Background
For several years now, the Stealth Squadron and the Glastonbury Modelers, based in Glastonbury, CT have been sponsoring a joint One Design Event in their respective indoor free flight model airplane competitions. The indoor flying season for each of these Flying Aces Club "squadrons' (local model airplane clubs) runs from November through April. Between the two clubs there is ample opportunity to fly these One Design Models which makes this one of the most popular events. Member enthusiasm and participation runs high as the One Design subject and plan is announced before each indoor flying season!
2018-19 One Design Model
2017-18 One Design Model