Outdoor season finale at Woodsom Farm is Saturday Nov. 5
(View Flyer)
click images to view larger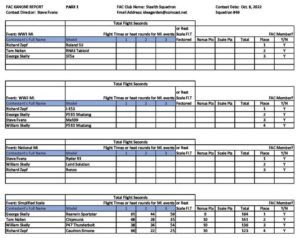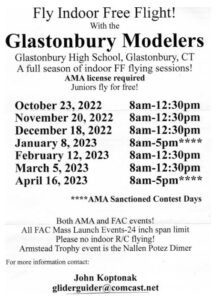 Tons of Flying Fun!
---
Whew, there's so much going in our local free flight model airplane clubs that it's tough to keep up!
Let's do a quick summary. First, despite a fair amount of wind at Woodsom Farm for the October 8 contest, there was a lot of good flying (and chasing). A number of flights flew off the field and into the rough, but fortunately most of these were found and retrieved. The Embryo Endurance event was hotly contested and sadly Steve E.'s Corvette was lost after putting in one of its best flights ever. All wail! Rumor has it Steve is already building a new and better Corvette.
We have one more outdoor meet at Woodsom on November 5 and the outdoor season finale at Whites Farm in Durham, CT is on November 13. We're betting on good weather for these meets.
Next, we have real reason to celebrate – after two missed seasons due to Covid, we'll be flying again in the Glastonbury H.S. gym (CT) this coming indoor season. The first flying session is this coming Sunday Oct. 23! See all of the flying dates on the official flyer at the top of this post, or on the Calendar page of this website.
On top of all this, we'll be flying a full schedule in the Penn Brook school in Georgetown, MA this indoor season as well. Flying there will begin in January 2023 and run through April. Look for dates and flyers to be posted to the Calendar page soon.
On October 29, the Stealth Squadroneers will gather at Roma's restaurant in Haverhill, MA to celebrate the 100th birthday of Golden Age Reproductions honcho and FAC Hall of Famer, Jim Fiorello. Hit us up via the Contact Us form on the site and we'll share the details. We'd love to see you there!
Finally, keep your eyes peeled for more info, tips, etc on the one-design models for the indoor season. Clubsters will be building the Nallen Potez 34 dimer and the Guillow's Bird Dog. Yessir, the balsa chips will be flying as the weather cools here in New England.
See you on the flightline skyster!