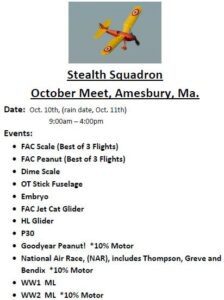 Free Flight meet at Woodsom Farm 10/11!
UPDATE: Due to more favorable weather/winds, the October Meet will be held on SUNDAY OCT. 11, 2020 and NOT Saturday 10/10 as originally scheduled.
All events and details other than the date will be the same on the Contest Flyer at left and at link below. See you at Woodsom Farm this Sunday!
Well, the gang had so much fun and good flying at the September meet, that we just had to schedule another one. That's right skysters, Saturday Oct 10 Sunday Oct 11, 2020 we'll be gathering again to fly on the beautiful rolling fields of Woodsom Farm in Amesbury. You won't want to miss this one as its going to be a long winter and who knows if indoor flying will be happening at all what with Covid and all. So..
Click the image at left to view the full contest flyer which includes Directions, Event Roster, Contest Director contact info, etc.
As for Events – we'll have FAC Jet Catapult Scale again – see p14 of
for rules. The Greve and Thompson Trophy mass launch events are being combined for this meet into the National Air Race (NAR) mass launch event. Bring your Thompson, Greve, Bendix or other National Air Race model to fly in this event. This will make room for a Goodyear Peanut mass launch event which is always fun. All mass launch events except WW1 will be flown on 10% rubber motors to shorten retrieval time.
Location will be at Woodsom Farm in Amesbury, MA about 30 minutes north of Boston.
Hope to see you there!!