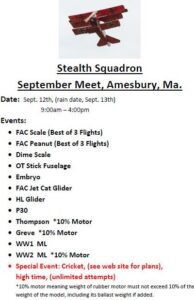 Free Flight meet at Woodsom Farm 9/12!
We just completed a great contest on August 22nd on the beautiful rolling fields in Amesbury. If you missed out, here is another chance to fly free flight rubber with us on the 12th of September.
Click the image at left to view the full contest flyer which includes Directions, Event Roster, Contest Director contact info, etc.
Events are changed up a little and include a FAC Jet Catapult Scale (see p14 of
for rules), and special, unofficial, Cricket contest (read about the model and download plan here).
Location will be at Woodsom Farm in Amesbury, MA about 30 minutes north of Boston.
Hope to see you there!!