three of the top 5 finishers braved sub-20 degree weather to fly..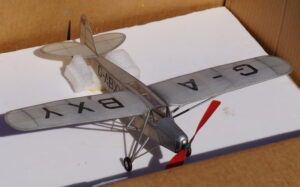 Tommy Too's Comet Puss Moth

Well gang, our first Postal Dime Scale contest is in the books.
There was some terrifically inspired flying in foot-deep snow and freezing temperatures to grab at the vaunted Squadron Commander's cap.
William the Kid held the crown through the New Year, putting up a nice flight over the frigid tarmac of mystical Texas Road field. Oliver S made a daring run for the glory in the depths of February with two models (one a twin!) in similarly frosty conditions at a remote Western MA field.
The legendary Pinkham Field Irregulars threw up an aerial armada of Dime Scalers in a futile attempt to purloin the Squadron Commander's cap off to Connecticut.
But in the end it was our fickle old friend Hung, who made his presence known on a late January day at Woodsom farm, spiriting Tommy Too's Puss Moth dimer on a 2:36min thermal ride. Yes Virginia, there are thermals in the middle of winter!
And look closely at the results skysters – way down, but there nonetheless. Yep, even Captain Downthrust himself mailed in an entry…how and from where is unknown, but the flight was listed Pinkham Field. Y'all were in the best of FAC company. Stand proud and get ready to go for it again next time!