Saturday October 7 FAC Meet at Woodsom Farm, Amesbury


Be there!
Click to Enlarge Images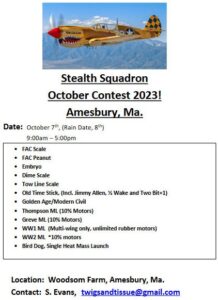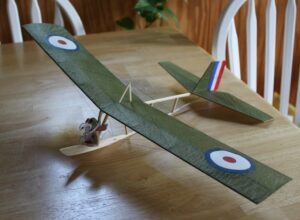 Heads Up Flyers!
---
ALERT! The Woodsom Farm free flight model airplane meet previously scheduled for two days October 7-8 has been downsized to a one day meet on Saturday Oct 7, 2023.
Events have been consolidated such that the contest will take place entirely on Saturday 10/7/2023. Check out the updated Contest Flyer for all the details.
The October 7 roster includes all of the usual scale and endurance events. We'll be flying towline scale again, so bring along your gliders. We expect to see a few new models including clubster Steve E's new Megow Primary Glider. Yep, Snoopy's back at the controls and will be looking to repeat his win at the September Woodsom Farm meet.
There's still plenty of time to build your own Primary Glider for the October 7 meet. It only takes a couple days to get one of these done. Download the free plan below and bring it along to Woodsom Farm on 10/7. The club will provide winches for flyers to use at the meet along with some quick guidance on how to tow your model to altitude.
See you at the field skysters!
Download Megow Primary Glider full size construction plan