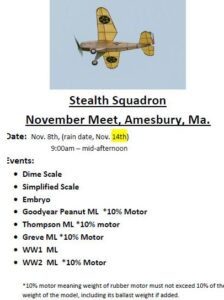 Free Flight meet at Woodsom Farm 11/8!
Whew! There's a lot of free flight rubber powered model airplane flying going on at Woodsom Farm in Amesbury – and that's a great thing! Yessir, the stealthy brass hats at GHQ have decided that more flying is just what we all need these days.
What nice folks, eh? (now don't you skybosses go gettin' noggins too big for your brass hats now.)
As usual, all events and details can be found on the Contest Flyer at left and at the link below. A "rain date" Saturday 11/14 has been reserved in case the weather fails to comply. Check this site and your email as Nov 8 approaches to confirm the date. As usual masks and social distancing protocols will be observed at this meet.
Click the image at left to view the full contest flyer which includes Directions, Event Roster, Contest Director contact info, etc.
And because it's been helpful, here again is a link to the
All mass launch events except WW1 will be flown on 10% rubber motors to shorten retrieval time. Note that due to daylight savings time, we may draw the meet to a close a bit earlier than usual in the afternoon. Not to worry though it'll still be worth your trip to beautiful Woodsom Farm in Amesbury, MA which is about 30 minutes north of Boston.
Hope to see you there!!