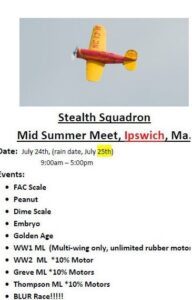 click image to view full size flyer with directions
Fly at the Pony Express Field in Ipswich
Flyer with Directions HERE
Hey gang!, don't forget the free flight rubber powered model meet tomorrow (Saturday July 24, 2021) at the Pony Express Field in Ipswich, MA! This is a new flying field on Boston's North Shore.
The Pony Express Field in Ipswich MA is a well maintained grass field much easier to chase on than Woodsom Farm which will be tall hay in the summer months.
Pony Express is a smaller site than Woodsom Farm and flyers may need to take steps (smaller rubber motors and/or fewer winder turns) to keep models on the field.
Smaller site meets are often big fun!
A few seasons back, we had a summertime meet on the Collins Foundation airstrip in Stow, MA and that was a really fun event. Same with the rubber FF meets at the Old Rhinebeck Aerodrome.
So come on out and fly your models on the new Pony Express Field in beautiful Ipswich, MA. As always, experienced flyers will be on hand to help you with any flight trimming or modeling questions.
See you there Skyster!