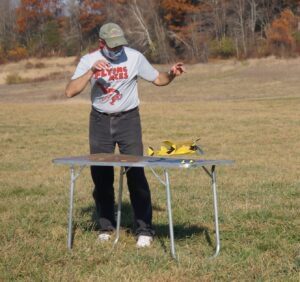 Click HERE to view Pics!
Despite the November date, we had perfect "light and variable winds" conditions for our fourth outdoor contest of the season at Woodsom Farm.
The grass was still soft, the sun still shining warmly, but the foliage was well past-peak. A full slate of Mass Launch events were flown and the less rigorous FAC Simplified Scale was substituted for the scale-judged Flying Aces Scale event. This freed up time for all to fly – and that folks did – putting up many high and long flights in the light air.
The meet ended a few minutes earlier than usual due to Daylight Savings Time, but all seemed interested in flying more oudoors in coming months, even if on a smaller field and in the cold.
So stay tuned to this site for more opportunities to fly!
See you on the flying field!
Click HERE to view Pics!