Indoor Flying: February 5, in Georgetown, MA & February 12 in Glastonbury, CT
Click to Enlarge Images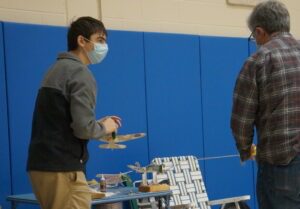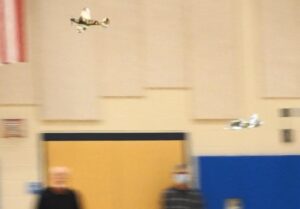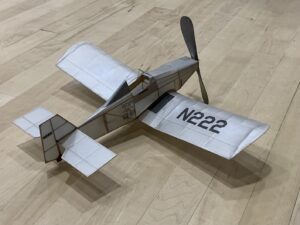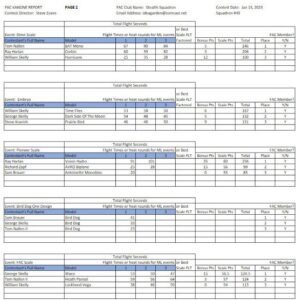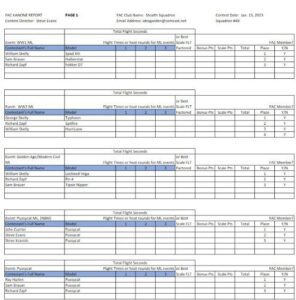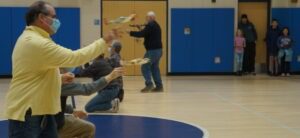 Highlights & Results
---
The Stealth Squadron kicked off the 2023 indoor flying season with a terrific meet on January 15 in the Penn Brook school gymnasium.
The areas top indoor free flight flyers were there and the competition was hot – but always light-hearted in the FAC way.
George S won the premier FAC Scale event with his very pretty and lightweight Waco cabin model, edging out Tom N's Heath Parasol by a half a point. That's about as close as it gets skysters! George also took the top spot in the always popular WW2 mass launch event, outlasting Rich Z's smooth flying Spitfire.
Team Skelly had yet more success with son William winning the WW1 combat event with his Rickenbacker SPAD 13, Embryo, and the Golden Age mass launch event with his new Lockheed Vega in Earhart colors. Boy, we're lucky there are only two of these guys!
There were 4 or 5 Guillow's Bird Dogs flying around the gym at the meet. Most flyers had trouble keeping their Dogs off the walls, but Connecticut flyer Sam B's model flew in nice tight circles, notching a 41 second flight, good enough for first place.
Intrepid indoor flyer Ray H. put up long flights with his amazing Voisin Hydro peanut biplane floatplane winning the Pioneer event, but his Comet Corbin Super Ace fell a few seconds short of Tom N's BAT Monoplane in the hotly contested Dime Scale event.
Ray's Pussycat model won the popular Pussycat mass launch event, but the real news was Jon C's win in the Pussycat NBM (non Blue Max) section. Jon earned his first Flying Aces Club Kanone with this win. Jon also handed out sheets of nicely laser cut stick model wing parts to the gang. Rumor is some new Pinkham Field Stick models are already under construction using these parts. Thanks Jon and congrats on the Kanone!
Click on the Event scoresheet images at left to view the detailed results. And be sure to pencil our next indoor flying date in on your calendar – it's Sunday Feb 5. Word is we'll be flying the Bird Dog "12 Minutes of Georgetown" event which is almost as much fun to watch as to fly in. Don't miss it!
See you in the gym skyster!