Georgetown Indoor Flying & Contest Dates added to Calendar
(View Flyer for Events)
click images to view larger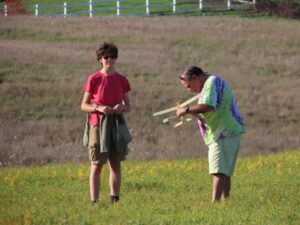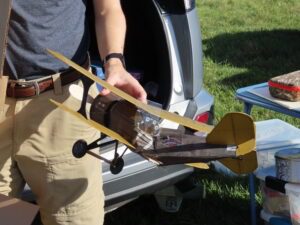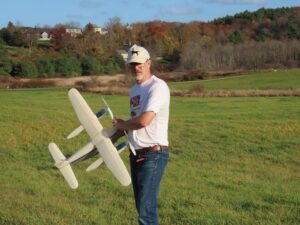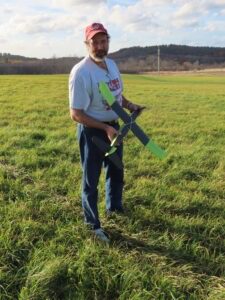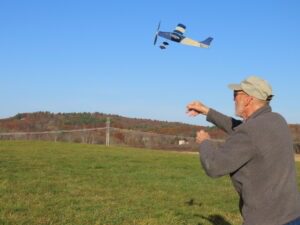 A Perfect (Windy) Day!
---
Wow, near 70 degree temps on a November day in New England with blue skies! A perfect day for flying free flight rubber models – well, except for the wind. Yep, it blew 12-15mph most of the day for our outdoor season close meet at Woodsom Farm in Amesbury, MA.
Still, many outstanding flights were made. Flyers had to wind their motors carefully lest they fly their models off even the big green fields of Woodsom Farm. Several models were lost with at least one OOS (out of sight) flight into a cloud. The mass launch events were hotly contested with several very close and unexpected finishes.
Carlisle ace George S. had a great contest with three wins for the hat trick. Son William S. was not so lucky, his Tomahawk Embryo stomped by a stick & tissue loving dog and his beautiful Laird Solution racer smashed by a Hungly gust while on the winding stooge. Oh, the carnage! All wail!
Steve E continued his winning ways in Pinkham Stick with his high flying Goose canard and copped a second Kanone with his Mad Maxine Embryo Endurance model. Clive G.'s Debut was hot on Maxine's heels, but made a bee line downwind for the tree line at the hill and was lost on its first official flight. Oh Hung, hath thee no mercy??
Clive settled the score somewhat with a win in the Golden Age Civil event.
Sam and young Tristan trekked to the meet and flew several events. No Kanones (first place finishes) at this meet, but they had big fun flying with the gang and that's really what it's all about.
There were lots more flyers and models to see, but we're running out of room here. Our roving photog did capture some of the action and we're happy to share it below.
Oh, one more thing. The Georgetown indoor dates have been set. Check the Calendar and the flyer at the top of this post. Get building and see you on the flightline skyster!