Saturday Sept 9 FAC Meet at Woodsom Farm, Amesbury


Be there!
Click to Enlarge Images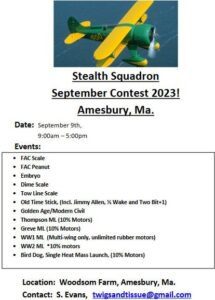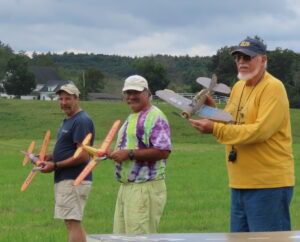 Towline Event FUN!
---
Saturday August 26 dawned wet with the promise of rains to come through the day. With seemingly better weather coming, the meet was pushed to the next day. Sure enough it rained hard Sunday morning, but a stalwart group of flyers showed up at Woodsom Farm and waited it out. Yep, the skies proceeded to clear yielding a nice flying day with afternoon sun and thermals. Don't trust the weatherman – better to show up and be ready to fly.
At least three new Megow Primary Gliders showed up. The towline winches were brought out and soon gliders were going up high over the newly hayed field. Clubster Steve E. led the pack from the beginning, his Snoopy-piloted Megow Primary putting up long flights. He capped off the win with a massive flyaway 5 min+ flight into the late summer clouds! Alas, no pics of the high-flying Primary were taken before it went OOS. Perhaps Steve will build another.
We'll be flying the Towline Scale event again at the Sept 9 Woodsom Farm meet in Amesbury, MA. Come and see what it's all about!
Steve K brought his nostalgic Lulu towline glider and flew it several times. Fitted with a mechanical DT and Auto-rudder, Lulu showed the gang what a fully-fitted out towliner can do. Word is FAC GHQ is considering a new event for these classic non-scale gliders.
Towliners are Fun!
The Pinkham Stick event was flown once more and sure enough Steve E copped this event again. His canard Goose got the win, but his new Stick model, the Stork, developed with FAC veteran Ed Pelatowski, finished a close second. Plans for the Pelatowski Stork will be offered for free download on this site soon. Keep your eyes peeled for it's release skyster. And congrats to Steve's double-Kanone day at the August Woodsom Farm meet!
Remember there's another Flying Aces Club free-flight model airplane meet coming up on September 9 at Woodsom Farm in Amesbury MA. Full Flyer with Directions and Contacts HERE.
Fall is the best time to fly rubber-p0wered model airplanes outside and the season will pass by quickly. Don't miss an opportunity to fly, or check out the action on this big beautiful field!