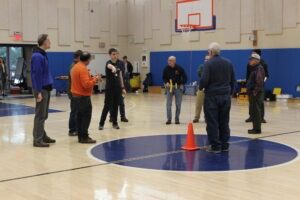 Click HERE to view Pics!
What fun we had in the Penn Brook Middle School gym in Georgetown a couple weekends back
The header photo above shows the gang getting the rules rundown on the Pipit "12 Minutes of Georgetown" – an event where Pipit flyers scramble to make as many laps around the balloon tethered around the orange cone set at center midcourt. It was exciting to watch as some flyers turned their Pipits left while others turned in the opposite direction. At the March 22 meet we'll be flying the Pipits in head to head pylon racing – be there to join the action…or at least observe.
See you then!
Click HERE to view Pics!