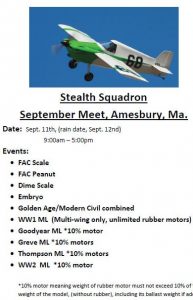 click image to view full size flyer with directions
Fly at beautiful WoodSom Farm!
Flyer with Directions HERE
Hey gang!, September is here and Fall is in the air. This is a beautiful time to fly FF and the forecast is looking up for next weekend. So get those models ready now and plan to join us at Woodsom Farm on Saturday Sept 11.
The field has been recently hayed making it much easier to chase high flying model airplanes.
Check the events roster above. Something to fly for everyone. Don't forget to bring your Goodyear Racer if you've got one.
New folks are always welcome. Bring a Free Flight rubber (or electric) model airplane, or just come along to check out the action. As always, experienced flyers will be on hand to help you with any flight trimming or modeling questions.
See you there Skyster!