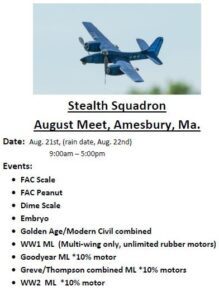 click image to view full size flyer
August 21 Meet back at Woodsom
Well gang, the Pony Express meet in Ipswich on July 24 was a big success. We had lots of fun flying on the new field and Sean R won his first Kanone in the hotly contested Embryo Endurance event. We hope to fly at Pony Express again next year.
But hey, the next Stealth outdoor meet on August 21 is back at the big field at Woodsom Farm in Amesbury. Check out the Event Flyer (links above) as the event roster has been changed up a bit.
Golden Age and Modern Civil are being combined so you can fly just about any scale civilian model airplane in this event.
Goodyear Mass Launch is also being added. This is for peanut scale models of Goodyear and Formula 1 midget racers. Rich Z handed out a good selection of model plans at Pony Express – contact him if you want a plan. We'll fly this event again in September if you need more time to complete your model.
As always, experienced flyers will be on hand to help you with any flight trimming or modeling questions.
See you on the flightline at Woodsom Farm skyster!
Pony Express meet pics & results!