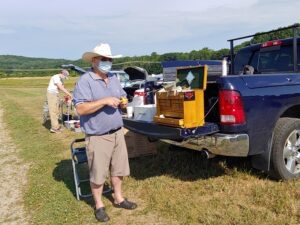 Click HERE to view Pics!
The second outdoor contest of the season was held September 12, 2020 on the beautiful rolling green fields of Woodsom Farm.
With Covid 19 still a threat, masks and social distancing protocols were in practice throughout the meet. This was no great setback to the strong turnout of flyers who came to fly their models and enjoy light breezes and strong thermals this fine autumn day.
Competition was hot as were the thermals. Unfortunately a number of fine models were lost OOS (out of sight), or over the hill. The gang will be busy this winter building season rebuilding the fleet!
We have another outdoor meet scheduled for October 10 at Woodsom Farm in Amesbury. Look for the Contest Flyer coming soon on this site.
See you then!
Click HERE to view Pics!
"check out the great photos and contest results from our Sept 12 meet at Woodsom Farm"
3 cheers to CD Steve Evans!