"certain props work with certain motors"
BY
Sam Brauer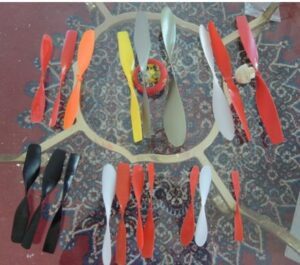 Using Plastic Props
---
Clubster Sam Brauer flies all types and sizes of free flight rubber powered model airplanes, both indoors and outdoors. In this article, he presents his experience with commercially available plastic propellers and the rubber motors that power them.
The prop and rubber motor combination is one of the strongest contributors to flight duration. Certain props and rubber motors work better with certain models.
Sam has tried most all of the combinations over his modeling career. His article presents many thought -provoking ideas (e.g., easily made prop mods) and includes an informative Table listing different plastic props, key specifications and suitable rubber sizes.
This is really good stuff for anyone starting out in the hobby.
Experienced modelers will benefit from a new perspective on prop/rubber that may help increase their models performance.
Click the link below and learn something new!