"Download William's 3 view and 22in wingspan model construction plan (scroll to end of post)"
BY
William Skelly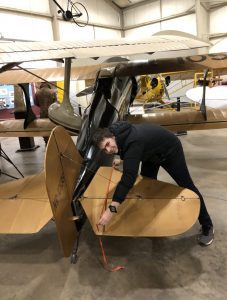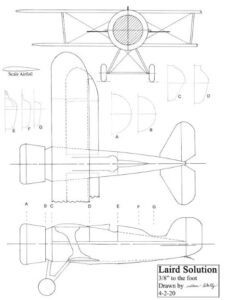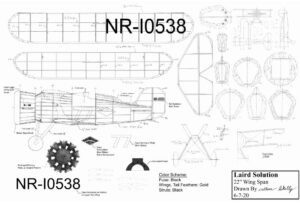 Laird Solution Construction Plans
& 3 View Drawing
There's nothing better than when a scale modeler builds a model from plans that he or she has drawn.
Well, maybe there is – if that modeler/designer has developed their own three-view general arrangement drawing from measurements he has taken from the actual airplane to be modeled!
Such is the case with clubster William Skelly who trekked to the New England Air Museum in Windsor Locks, CT to view the original Laird LC-DW 300 "Solution" in their golden age raceplanes collection. William convinced Museum management to let him get up close to the one-of-a-kind aircraft and take the measurements needed to compose his own scale 3 view drawing for the Laird. We're thrilled to offer William's drawing to you here as a free download, along with the rubber-powered free flight scale model construction plan he designed and drew from that 3 view.
By using actual measurements taken from the real airplane along with perspective photos, William eliminated the foibles that often come with designing a model from a previously published 3 view drawing. Noted model airplane designer Bill Hannan discussed the issue in one of his excellent books, highlighting the discrepancies between published 3 view drawings for the ubiquitous Fokker DVII World War I fighter aircraft. Bill favored taking measurements from the actual aircraft whenever possible.
After taking a short break from his documenting and designing efforts (it's not easy, but rewarding), William is now underway with construction of a flying scale model from his plans. We're sure he'll do a real knock-out job of it too.
Why not download your own set of plans and documentation and join along in the build? We're sure William would be happy to correspond with any modeler who does.
Thanks again for your excellent contribution, William!
Download 3 View Drawing
Download Construction Plan (print on 8.5 x 11in sheets)
Download Construction Plan (print on one Arch D 24x36in sheet)